Peer Recovery Partners
Peer Support Specialists with Lived Experiences
We help your patients on their path to recovery
Goal Setting
We help patients by guiding their own goal setting
Relationship Coaching
We help patients better integrate back into their relationships and environment
Stress Management
By teaching stress management skills, patients are better equipped
Career Advice
After treatment, we also help patients pursue their next big move
Why 24/7 peer support access helps patients?
The mission of Peer Recovery Partners is to bridge the gap between Providers and Peer Support Specialists while empowering the individual to continue their journey in recovery.
Who qualifies as a peer?
A peer is someone that has gone through the same types of experiences as your patients.
Put simply, a peer is someone that knows what they are talking about and more importantly, is someone that your patient can come to trust.
Why are calls not scripted?
By taking a motivational-interviewing approach, patients can feel comfortable building rapport and a close relationship with their designated peer support specialist.
With this foundation, goal setting, overcoming obstacles and dealing with feelings of being alienated or misunderstood by friends and family become easier to manage with the support of a trained peer.
However, this does not mean that calls are categorized and escalated in situations where additional resources or outside help may be needed.
Who is peer support for?
Peer support can be great tool in post-treatment plans for people dealing with a wide range of issues.
Issues can include, but are not limited to:
Alcohol abuse

Depression

Domestic violence

Eating disorders

Family Crisis and Counseling

Gambling addiction

Mental health

Post-Traumatic Stress Disorder (PTSD)

Relapse prevention

Sexual abuse/addiction

Suicide intervention

Tobacco cessation

Coping with trauma
4 outcomes of a call?
Although calls are unscripted, there are 4 outcomes that support specialists are trained to identify and escalate if needed.
In some cases, a warm hand-off may be needed. This is a 3-way call to the appropriate agency to introduce both the caller and the center's staff to make the process of seeking additional resources smoother on the caller.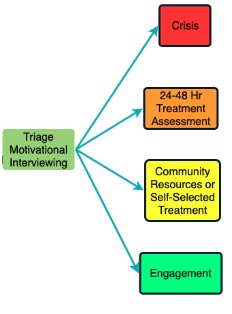 1. Crisis intervention
If the PSS agent believes the caller is currently in a life-threatening situation or environment, the PSS agent will perform a
Warm Hand-Off
to the appropriate agency in the caller's location.
2. Refer to 24-hour treatment
If the PSS agent believes the caller has a sense of urgency to get treatment or assessed in the next 24-48 hours, the agent will perform a
Warm Hand-Off
to local State Human Service Centers or to the caller's sponsoring agency.
3. Refer to community resources
There are many paths to recovery and a PSS Agent's goal is not to decide for the caller.
Some callers may need community resources like homeless shelters, a religion-based recovery program or need information on how to locate the nearest related group (e.g., Alcoholics Anonymous).
4. Peer engagement and rapport building
Just like the founder of Alcoholics Anonymous, sometimes, the best thing a PSS agent can offer is to simply be there for the caller.
The PSS agent will focus on building rapport with the caller.
By listening attentively, the PSS agent can help to guide the conversation and help the caller make realizations about their struggles.
More importantly, the PSS agent can become a support system outside of their friends/family/etc that actually listens to them without judgment or misunderstanding.
The PSS agent will invite the caller to call back.
Healthcare
We work with treatment centers, primary health and public health (free clinics) providers.
More Details
Treatment Centers
Treatment Centers may be operated by a private organization. People seeking recovery are usually unable to determine which type of care is best for them. In a treatment center, counselors are available to provide recoverers with a professional evaluation to determine which drug treatment methods will be most helpful and appropriate for them.
Public Health – Free Clinics
People seeking recovery may also turn to a government-operated treatment center. These treatment centers also guide the recoverer to select the type of care best suited for them. These are staffed with counselors to provide a professional evaluation to offer a drug treatment regimen that will be most helpful and appropriate for them.
Primary Health
The recoverer can also turn to primary health made up of private hospitals, clinics, or private practice – mental healthcare providers. These also guide the recoverer to select the type of care best suited for them.
Private Practice (Mental Healthcare Providers)
Community Partnerships
We aid community resources like homeless shelters, battered women homes and faith-based nonprofits.
More Details
Faith-BasedHomeless Shelters
Homeless Shelters normally help emotionally helpless people, people with depression, and encourage the homeless to succeed using spiritual principles.
Social Services
We collaborate with government services such as court, family services and law enforcement.
More Details
Families and Children (Child Support)
People seeking recovery oftentimes require public assistance to help with food stamps, health care, childcare, child support, blind services, and other basic needs where PSS may guide the recoverer to the proper resources.
Judicial (Courts)
People undergoing recovery oftentimes need rehabilitative services through the justice system such as correctional facilities or to support family members where PSS agents may support the recoverer to the proper resources.
Law Enforcement
Law enforcement often seeks out assistance from Peer Support to aid in response to service functions for victims that may require crisis intervention, support, and referrals.
Parole/Probation Officers
Assigned to an individual after their release from an institution to assist them as they adjust to their transition into society. They may help with everything from job searches to staying drug-free. Parole Officers are typically responsible for a large load of cases at one time and may seek the assistance of PSS agents.
Education
Some schools may have addiction counselors on staff to help parents, students, and school staff identifies the needs that interfere with learning. Peer Support Specialists help bridge school, home and community to help students be as successful as possible.
Free 15-day Trial
Try out our service for 15 days in your treatment protocol. It's easy!
When you sign up by simply completing the form to the right, you will be issued a toll-free number and a unique PIN. We will email you a temporary card for you to print out and distribute to your patient(s). At the end of the 15-day free trial, you will receive a detailed report of the interactions with your patient(s).
After you become a partner, we will issue several business-sized cards with unique PIN's that you will issue to your patient(s). Because our calls are anonymous (first name basis), you should record the PIN-patient combination to check on your patient's progress.
The role of a peer support agent complements but does not duplicate or replace the roles of therapists, case managers, and other members of a treatment team.